There's nothing more relaxing than spending an afternoon outdoors at a barbeque with friends and family with a few drinks and fun games.
When we think of enjoyable outdoor tailgating games, the first that comes to mind is cornhole – aka bean bag toss. As it is, the competition is exciting and, at times, fierce. Add in a few of your favorite adult beverages, and the game of cornhole becomes even more thrilling.
You can simply drink casually while playing. Or you can make a drinking game out of cornhole. We prefer the latter. For us, the more competition and more wrinkles in the game equals more fun.
Below we share a few of our favorite cornhole drinking games that are sure to bring even more life to your tailgate party, barbeque, or outdoor gathering.
While the official name of the game is Cornhole, some people call it "Bago" or "Batato". It doesn't really matter what you call it as long as you're having a good time!
Let's start with the basic rules of cornhole. You must get these down before graduating to more sophisticated drinking battles.
First you need a cornhole set with beanbags. Grab 'em here if needed.
Place the cornhole boards approximately 20 to 25 feet apart. You can modify this range depending on player skill level and how drunk you want to get. Set all eight bean bags beside one of the boards to start.
Split into two teams of two. After that, one member from each team selects a side so that you're on opposite sides of your teammate. The game begins with whichever side has the bean bags.
Playing is straightforward. Obviously, the objective is to throw as many bean bags possible into the cornhole or on the board while trying to block your opponent from doing the same.
Just be careful when throwing. A foul occurs when you step past the front of the cornhole board or when you throw out of turn. When a foul occurs, the player's turn is lost and the thrown bag does not count if points are scored.
In the course of one turn, players alternate throwing. The team that scored more points in the previous round throws first in the next round.
Teams are awarded three points for a bean bag that goes in the cornhole and one point for each bag that lands on the board. You may decide that a bouncing bag counts or not (meaning it hits the ground first before landing on the board or in the corn hole).
Here's a scoring example:
Player 1 and Player 2 are standing next to each other at one end. They are on opposing teams. Player 1 lands one bag in the hole one bag on the board for 4 points. Meanwhile, Player 2 lands two bags in the hole and none on the board for 6 points. 
By winning the round 6-4, Player 2's team is awarded the difference: 2 points.
The team that reaches 21 points first is the winner. A team can score over 21 points without resetting their total or you can modify the rules to reset a team's score to 13, 15, or some other number if they do not hit 21 exactly. Just know that altering this rule will likely cause games to exceed 30 minutes.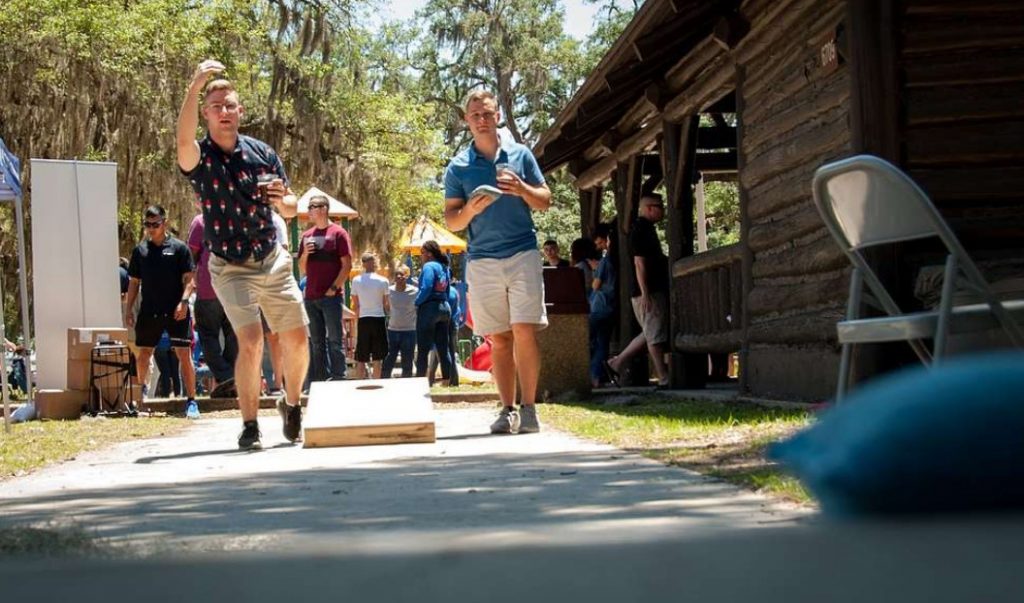 Our favorite cornhole drinking games
When it comes to drinking games for cornhole, much like Frisbeer, there a few variations to consider. Your decision on what to go with will depend on the skill of the participating players and how drunk you and your fellow players want to get it.
First and foremost, pick up your favorite alcoholic beverage of choice and prepare yourself for a good buzz!
This is the easiest and probably most popular way to play a drinking game with cornhole. In fact, it's a lot like beer pong.
With this version you keep the standard cornhole rules as explained above, but throw the scoring aspect of it out the window. Simply, the other team drinks when your team lands a bean bag in the cornhole and vice versa.
This is a solid starter game if you want to eventually work up to a more complex competition.
If you are playing this variation with seasoned cornhole players, the drunken potential is off the charts. However, if the combatants are new to the game of cornhole, not too many drinks are likely to be consumed.
If you want to get tipsy fast, make sure you're up against pro cornholers.
Traditional cornhole drinking contest
As you might have already guessed, for this game variant you will use traditional cornhole rules and scoring as stated above.
This is ramped-up version of the drink-on-a-made-bag game. With this one, you will take a sip on every point. Being that the game is played to 21, the losing team will enjoy at least that many swigs.
Consider something like Coors Light or Michelob Ultra because this is easily the most drunken variant of any cornhole game. Drinking whiskey, shots, or heavier beers will certainly knock you out for a few days.
You can also play this the traditional-traditional way. What that means is the losing team in each round takes a drink for each point they lost by. 
So, if you lose a round 6-4, each competitor for the losers takes two drinks.
This is a great one to bring out when folks start getting sloppy. You can also implement it in the two variations noted above to help get folks wasted even quicker.
As you may have assumed, every time a player commits a foul they must chug their beer, wine, or liquor. Fouls occur when a player steps beyond the cornhole board when throwing or when they throw out of turn.
To make things even wilder, you can also call fouls on bags that don't land on the board or in the cornhole.
A variation on this game is to set a foul level before the game begins (like 2-3). If one team stays under that number, the other is forced to chug.
This is yet another element you can add to a traditional drinking game of cornhole.
With this variation, a player may attempt a throw with their non-dominant hand. If they sink the throw on the first try, one of the opposing players must drink.
If they miss, however, a player from the opposing team can make an attempt with their non-dominant hand. If they connect, both payers from the other team have to chug.
This method is best when implemented to the traditional-tradtional cornhole drinking game noted above.
After the losing team drinks the number of points scored against following a round, the board is cleared. The last two competing players will then throw an extra bag, otherwise known as the "shot bag."
If the shot bag is thrown in the hole, the opposing player has to take a shot before making their throw. The game continues until a throw does not end up in the hole.
With hard liquor in the mix, the chance to get hammered grows exponentially. 
For this version, you can buy a few extra bags to use as your shot bags or just use the same bags from the previous round of play.
You drink, I drink, we all drink
For this cornhole drinking game, you will need a custom board with the designated holes of I drink, You Drink, and We drink. Generally, the board consists of three rows or two or three circles labeled I, you, and we.
A popular way to play this game is each player throws four bags, and drinks are consumed according to what hole the bag goes into. It's so straightforward a monkey could play.
For example, if a bag is thrown in the "I drink" hole, the player making the toss drinks. With "you," an opposing player drinks. "We," all competitors drink.
You can also implement fouls, shots, and different point levels to spice things up. It's your world!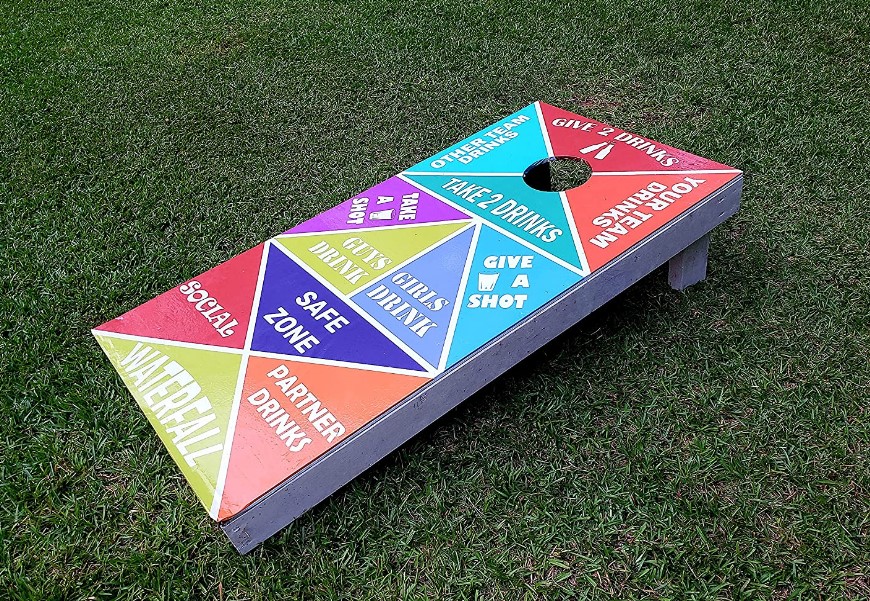 Special cornhole boards and bags
In addition to the "I, You, We" board noted above, there are several other boards available today with specialized markings to make things even more fun and debaucherous. See above!
Likewise, you can purchase custom cornhole bags that read shot, chug, drink, and social. When a team lands a bag in the cornhole, the opponents have to do whatever the bag says. Both teams drink up when the social bag is sunk.
This setup is known to lead to massive hangovers as its possible to shot, chug, and drink all within a few minutes. Be careful if one team is overmatch as they are sure to get inebriated in no time.
Though not designed specifically for drinking, we can direct you to the best college-logo cornhole boards for the tailgate outing before the next big game.
With all that being said, you can always make your own rules! When it comes to adult cornhole drinking games the options are endless and only limited by your imagination.
Make your next get-together the best one ever by adding in a fun competition that is spirited, creative, and festive.
Best alcoholic beverages for cornhole drinking games
Getting the right drink is crucial for your health and wellbeing. Playing cornhole outdoors usually means hot and humid weather conditions, which can lead to dehydration, illness or worse when too much alcohol is consumed.
That being said, it's best to stear clear of heavy dark beers with high alcohol volume. As it is, it's hard to guzzle these types of beverages in bulk.
Instead, opt for lighter fare. Think wine coolers, light beers, hard selzters, hard lemonade, Corona, etc. These will go down easier and won't bowl you over after 15 minutes of cornhole action.
It's also not a bad idea to mix in some water in between games to keep you hyrdated and avoid being passed-out drunk.
With a cornhole drinking game, you can compete against friends, family, and even strangers without any stress and tension of playing against real opponents. It easily is one of the best outdoor drinking games.
Remember, the party can get rowdy. You'll have to drink a lot of beer to keep up with all of your friends who are playing cornhole.
Be responsible. No one under the age of 21 should play. Drive home safely, and call a Lyft or Uber if necessary.
Best of luck in your next cornhole drinking competition! Please share your favorite creative cornhole home games in the comments below.